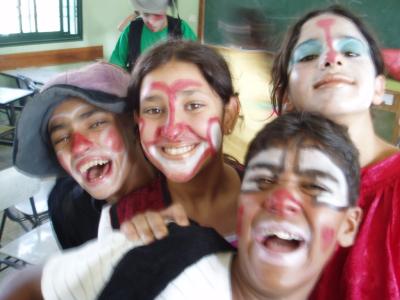 [
Picture: Anne von Circolibre
] Es gibt hier das schöne und passende Sprichwort des "Nachbarn der die Fliegen an der Wand sieht". Allen Ernstes versuchte diese Woche die JPost-Liga zur Kontaminierung von Menschenrechten Israel e.V. die heute Abend beginnde Tour der L'école du cirque de Palestine in Belgien und Frankreich zu politisieren. Das System ist einfach gestrickt: Man nehme einen Palästineser und erwarte aufgrund seiner Existenz bei einer Veranstaltung einen poltischen Skandal. Dann nehme man sich bedeutungslose Zeitgenossen vors Micro und lasse sie fern von der Bedeutung des Geschehens losplappern:
As part of the festival, an official Web site of the French Community, www.agenda.be, lists the clown performance with the title "Circus Behind the Wall." The Web site describes the visit as "a clown, acrobats and a circus as a means of resistance and struggle." According to French Community Minister of International Relations Marie-Dominique Simonet, the festival focuses on Palestinian culture separate from Israel because Israel is a "rich country" - outside the "north-south" framework of the festivals, which try to showcase a poorer southern nation. At the same time, the minister added, Israel already enjoys cultural and scientific cooperation with Belgium's French Community. Meanwhile, the French-speaking Belgian newspaper La Libre quotes Palestinian representative in Brussels Leila Shaid as saying that, in the paper's words, "we should not always talk of Israel when we talk about Palestine and... it should be possible to show 'simply' artists of a country." But some people are not as confident that the festival can be disconnected from politics, and anti-Israel politics at that. Reached by phone on a visit in Israel, Joel Rubinfeld, president of the Coordinating Committee of Jewish Organizations of Belgium, said that "there is a strong political message behind this. When you speak about Palestinians or Israel today,

everything is political

. Buying a Jaffa orange in the supermarket is a political gesture.
"
Tatsächlich finden wir einen politischen Zirkus, welcher Zirkus wäre das nicht:
Circus Behind The Wall
- Dans une démarche transcendant de nombreux obstacles dans la société palestinienne liés à l'oppression de notre art et notre histoire, L'École du Cirque de Palestine donne naissance à quelque chose de neuf. Une forme artistique de divertissement uniquement connue au travers des médias de masse et des visites sporadiques des cirques de l'étranger, s'élance maintenant dans une nouvelle forme d'expression pour les Palestiniens. Une nouvelle manière de transmettre une idée de résistance à l'occupation et à l'emprisonnement. Une façon de vivre et d'exiger le droit d'exister. L'idée du spectacle Circus behind the wall est inspirée de la vie réelle de Palestiniens séparés de leur eau, leur terre, leur passé, leurs proches par le mur de la ségrégation. Nous voyons des sœurs séparées l'une de l'autre, des proches dans l'incapacité de se contacter. Mais tous les moyens à portée sont mis en œuvre pour surmonter ces obstacles : balles de jonglage, trapèze, échasses. Nous voyons des acrobates, un clown, des jongleurs danser la vie. Le mur ne les décourage pas de vivre, de communiquer, de se déplacer, de rêver ni de se battre pour la liberté de leur pays. Circus behind the wall reflète une profonde conviction: un jour, le mur tombera. Parallèlement à la présentation de ce spectacle, le PAC initie un projet Asseoir l'espoir. [...] Cirque derrière le mur ou comment
résister pacifiquement à l'occupation
. Le message de la jeune école de cirque palestinienne ne fait pas de doute. Sur scène, l'esprit est à la fête. Numéros d'acrobatie, de jonglage, de clown, de trapèze et de tissu s'enchaînent en un spectacle rythmé et haut en couleur qui parle d'évasion : par le jeu, le rire, l'apesanteur sous toutes ses formes. Envolées lyriques et bouffonneries se succèdent, évoquant la force du rêve lorsqu'il épouse l'espoir.
Was ist daran "anti-israelisch"?:
Le spectacle "Circus behind the wall" s'inspire de la vie réelle de Palestiniens séparés de leur eau, leur terre, leur passé, leurs proches par le mur de la ségrégation
.
Die Tour wird über den Februar zuerst in Belgien und später in Frankreich statt finden: 3 février au Môme Circus de Tournai, le 7 février à la salle de concert De Roma de Borgerhout [Masarat] et le 9 février sous le chapiteau de l'Ecole du Cirque de Bruxelles, D'Ivri sur-Seine Samedi 16 février 20h00 et Dimanche 17 février. Weitere mögliche Dates selber suchen.